!-DOCTYPE html PUBLIC "-//W3C//DTD XHTML 4.0 Transitional//EN" "http://www.w3.org/TR/xhtml1/DTD/xhtml1-strict.dtd">
RELAIS DE LA BAIE
Galerie Cafe. Noyelles sur mer.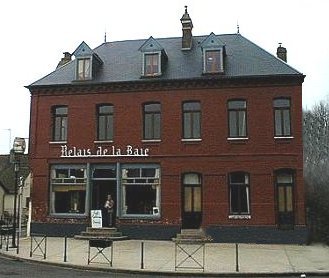 Relais de la Baie is an art galley with a cafe, which is becoming a meeeting place for artists in the region. There is a large collection of art books and magazines and there are plans to run art course and seminars there in the future.
Visitors can talk to Pippa about her work and can be shown around her studio, which is above the gallery. The large gallery space was designed and constructed by Pippa's son Matthew who is a scultor in London. It is used as an exhibition space for other artists as well as for Pippa's work.
Relais de la Baie is an imposing building painted red which dominates the village of Noyelles which is half way between Le Crotoy on the north side of the bay and St. Valery on the south. It is immediately opposite Noyelles station, on the main line from Paris to Calais, and attracts local families as well as visitors to the area. The little steam train also stops here on it's way round the bay.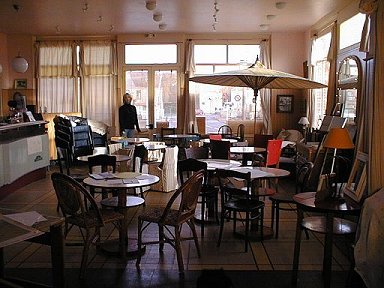 The cafe has a warm and friendly atmosphere, a cross between a French cafe and an English tea shop with tables and chairs outside on the pavement. You can sit in the sun and watch the life of the village and people coming and going to the trains. In the cafe they serve coffee and a wide range of unusual teas, fresh juices and snacks. There is also an alcohol license. Most of the food is home-made; bread, cakes, soups and of course 'English cream teas. ' Wherever possible they use local produce: for example there is a delicious range of ice cream made at a nearby farm.
Relais de la Baie opens from the beginning of April to the end of September. Thursday, Friday, Saturday and Sunday from 10am to 7pm and everyday except Mondays in July and August.
HOME